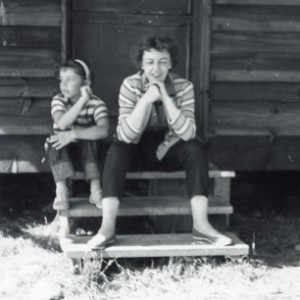 It was Mother's Day a few weeks ago and I have found myself doing a lot of reminiscing and soul searching since then. Life with my mother wasn't always an easy one and I wasn't always an easy kid to live with either. Mom was burdened with her OCD disorder which in itself was a total life disruption for a kid. It made daily life a struggle for the both of us. There was nothing normal about our lifestyle and if you were the sort of person who craved a close family life similar to the all American Cleavers, it was a daily challenge.
I was a tomboy for as long as I could remember as a kid. As I got close to 12 years old, I also became quite rebellious having seen how my friend's families were living and interacting at home. It created a lifelong yearning for the large and close knit family, which I am sure is why I love the Walton's tv series so much. I've seen every episode about a million times and it doesn't look like I will give it up any time soon. Makes me feel as if I am home when I watch shows like the Walton's and Little House on the Prairie. Probably not realistic, but there you have it. It works for me to project myself into those families.
With all that said, I've been reflecting about the years of my life living with my mother, the years raising my children and how, even though I was acutely aware of my mother's insufficiencies as a parent when I was growing up, I seemed to have acquired a complete lack of knowledge on how to relate to children. Under the circumstances, it was no big surprise. I swore I would never be like her, and I am very much my own person but having been brought up in that atmosphere, there's no way you can come out without bringing some baggage along with you. I may not be carrying the heavy weight of the OCD affliction, thank goodness, but there's something there, something that I can't put my finger on, something that prevents me from moving forward in life.
I was clearly a product of my earlier environment. I can look back and see that now and although I wish that I could have a redo, I know that there are no "command z's" in life. There are no redos…there are just the memories of yesterday, today and all the tomorrows ahead, carrying forward what you have learned from this life lesson…and it is a lesson. Everything that we go through in life, happy or sad is a lesson to be learned. Hopefully my mother and myself have worked through what we are here to learn from one another. Maybe dementia was part of that lesson and maybe me being her caretaker was all in the universal plan.
[contact-form][contact-field label='Name' type='name' required='1'/][contact-field label='Email' type='email' required='1'/][contact-field label='Comment' type='textarea' required='1'/][/contact-form]