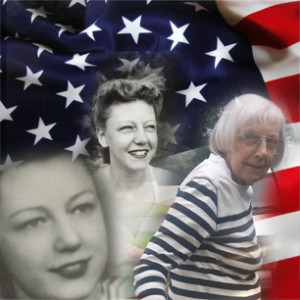 Today is the 4th of July, Independence Day for our country, a time to reflect and celebrate the signing of the Declaration of Independence in 1776 declaring our independence from Great Britain while at the same time announcing to the world that we are our own sovereign nation, pledging to our own flag. My Mother was a loyal and proud American, loved to talk politics, voted without fail every year until the day she forgot what voting was, believed in the American Dream and was grateful to have been born in this country. With that said, today, this first year since my mother's passing, with yet another first upon me….and there have been many so far this year. I believe that everyone must go through these feelings during that first year after a loved one passes, but I never really thought about that until it directly effected me personally. I mean really, how was I to know about the "first syndrome" until crossing that bridge for myself?
Alzheimer's disease and it's associated assorted dementia related diseases are a nightmare for our population worldwide with the numbers of effected people and their families rising daily. Although they are making advances in the medical field for these diseases, it doesn't help those that are or were effected yesterday or today. Yesterday's sufferers have left a black void in the hearts of their families and today's sufferer's are watching the train coming down the track without even realizing it. It's just a matter of time before their today becomes their family's yesterday, leaving them to think about all the "firsts" that will occur during their first year after their loved one dies.
Photos: above: (1) My Mother, Eleanor Van Meter/Sarter at various ages, sporting her Kennedy-like teeth…I always loved her smile, below: (2) Mom, young at the beach, one of my favorites, (3) Mom even younger at the beach, probably Coney Island…quite possibly on July 4th!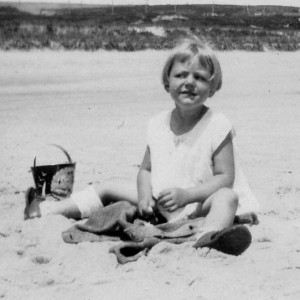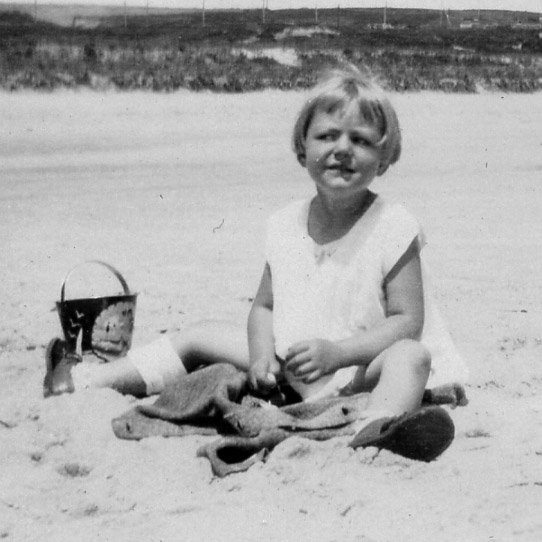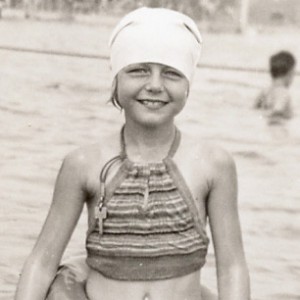 What does a person think about on the "first" holidays that occur during that "first" year? Well, for me, it's all about reflecting back to that holiday the year before, which sometimes, there is no recollection of what we were doing that particular day. I know that I was home because that is where my Mother was and I was not working. Chances are we bar-b-qued, which Mom always liked…but what did we bar-b-que? Who the heck knows…point is, when we are care taking, many times, we take for granted every day that passes in just trying to get through, not really cherishing what is right there in front of you. You are struggling to do the best job that you can while trying to earn a living, manage a household and all the chores associated, all the time enduring the stressful existence that you find yourself in with a loved one suffering from dementia. Although we know exactly in our heads, what the outcome will be down the line, it's incomprehensible to submit or subscribe to the idea that someday, your loved one will be taken by this life sucking disease of dementia. I guess it's what's called denial…ending with the rude reality in the grande finale'…leaving us with a whole lot of "firsts" and non-ending reflections from the past to digest. Did we do a good job in care taking, did we embrace the little things that occurred daily, did we tell them that we loved them enough, did they even know that we loved them… a lot of burden to carry around everyday.
In my case, I am starting the 10th month into my "first year" journey. Not many holidays left to reflect on, yet I know in my heart, that when the first anniversary comes around, my brain won't magically shut off. If I know human nature…and myself, I will go on to reflect my Mother's existence on this earth shared with the memories that I carry around, both in childhood and as an adult. I'll try not to dwell or lament on whether I feel that I did a good job of care taking, or not so much, because in the end, we all do the very best that we can considering the circumstances that we are dealing with. I'll look back and think about the things that she liked to do, her accomplishments in life and the footprint that she left me with. Really, that's all we can do.
On this July 4th, give the person you are care taking a big hug…trust me, you will thank yourself later.
Happy Independence Day Mom!