It's been 8 months since Mom passed from her dreaded diseases and the first Mother's Day since, is upon me. At this time, I can't help but reflect on our relationship over the years, both with dementia and before dementia and Alzheimer's worked it's evil magic.
My mother, Eleanor Van Meter, had always wanted a career, going as far back as her childhood. Some kids dream of being married with kids and others yearn to be in the business world, in the big city, as in the case of my mother. As a matter of fact, we had that very discussion after she came to live with me. She admitted that motherhood and having children wasn't on her list of things to do and that working and career had been her big dream in life. But, as fate would have it, "oppsey"…I came along, much to her surprise. I'm sure my arrival put quite a damper on her plans in the business world but she stepped up and made the best of it, dealing with it in the best way she was able at the time, with the help of her parents, my grandparents. I think that even with all the adversities and bumps in the road throughout the years, I turned out okay. That means to me, that she did good!
Photos: above: (1) Mom and Me, on vacation, (2) Mom and Me at a few months old. Below: (3) Mom and Me at Greenwood Lake, (4) Mom with her grandchild Shad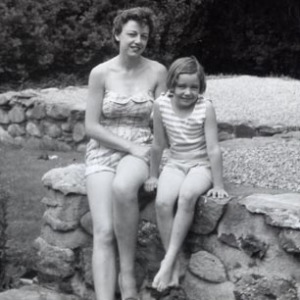 I remember that conversation as if it were yesterday, although in reality it was about 4 years ago. She was already in the throws of dementia but it wasn't at the crippling stage at that point, so thankfully, our conversations were both informative and memorable. Even though nobody would especially choose to hear that kind of news, I wasn't surprised, nor was I resentful. I guess, I kind of sensed it as I was growing up. Looking back at childhood, there wasn't a time that I can remember that Mom wasn't working in NYC at some big company, leaving in the early morning and arriving back home at night. I was alone a lot, coming and going pretty much whenever the spirit moved me. Everybody, including my mother, was entitled to live out their dream and although life wasn't easy back then for either of us, she adequately provided for me. We were far from well off financially and there were times that I walked around with holes in my white keds and looking like a ragamuffin compared to my friends, but hey, that was the style back then…bobby sox and keds with holes in the toes! It's ok…I was never hungry and always had a roof over my head. Also, a lot of time was spent at my grandparent's house and I loved being there too so it was all good. They didn't work and I felt very comfortable with the dynamic and normalcy of that household, which I'm sure, is part of the reason that I am as normal as I am today.
As a kid, I recall meeting Mom every night at a designated spot after she got off the train from work and we would go to eat dinner out together. We would go to Jahn's, get Chinese take out, sit at the Hamburger Express and watch the train deliver our burgers or just get a pizza. We didn't eat home much, which probably accounts for my lack of expertise in the kitchen and my disinterest of home entertaining! I could choose to look at this in one of two ways….one, we were so different than my friends who had home cooked meals every night, boo-hoo….or two, none of my friends got to eat out every night, so I'm pretty lucky! I chose the latter way to think of it! Actually today, I almost never get to eat out anymore, so it's looking pretty appealing to me!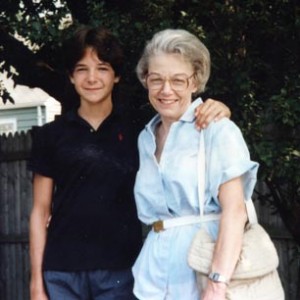 I have memories of Mom trying to wake me up in the morning to go to school…probably around the grade school days. She'd come in my room full of energy and determination, singing "You've got to get up, You've got to get up, You've got to get up in the morning".  It sounded like an army style thing with a bugle, something that she might have picked up during her growing up years…but I can remember her singing like it were yesterday. After the song, she would bring in a cup of tea, sometimes different types of tea such as Earl Grey, Darjeeling, Oolong or English Breakfast tea. She is the one who introduced me to tea and the different varieties that I still love to this day.
I also remember the day I turned into a girl from a tomboy, as we stood in front of the mirror in my bedroom trying to figure out how to make my hair into the perfect Flip with a headband, just like Patty Duke's hair. The headband style loomed large in my transformation as I recall. Even though we were not like most mothers and daughters, she tried to do good things for me as best she could as I was growing up. It wasn't easy either since I was quite a handful being a hyperactive child with very rebellious tendencies.
As adults, our relationship was mainly by phone since she had moved to California back in the 70's. In California, she married the love of her life Dwight Van Meter, and I was living life hippie style on Long Island…Age of Aquarius! We sure did go through a lot of stages through the years. But we had great conversations, mostly on Sunday nights just as her and her own mother once had in adulthood. We talked about everything, the happenings of the day and week, the dogs and their antics, about her job and books that she might have read. Later, we talked about writing and illustrating a children's book together, which never came to fruition, although, I've considered following through with writing it in her memory. There were a lot of little things that were left unsaid due to her disease that I now wish I had said, but even though, I feel that we did come to terms together with our relationship…and she came to terms finally, with her OCD disorder that crippled most of her life.
No, life wasn't perfect…she wasn't a perfect or typical mother and I wasn't a perfect or typical kid, we were just human. BUT…she was my mother and I was her kid and we both did the best we could in an imperfect world with the cards that we were dealt. I don't have a lot of early memories, but I will remember her by the ones that I do have. Our time together this time around didn't come with huge, monumental happenings and events, we were simple people coming from simple beginnings living a very simple life. Hopefully, through the years, little memories of the past will come back to me and I will consider them a visit from my mother.
Happy Mother's Day Mom, wherever you are!