Should caregivers consider having a pet in the house for their loved one suffering from Alzheimer's or dementia? I would guess that many factors figure into the answer to that question, such as does the caregiver like animals, does the patient like animals, can their house accommodate a pet, will they have enough time to devote to the pet? So many things to consider when making this decision because taking on a pet is basically bringing in another family member. They will need to be fed, cleaned, possibly walked. They will need shots and vet care periodically and of course lots of attention. It's a big decision for anyone and compounded with dementia care.
In the case of my mother, Eleanor, she was never a huge animal lover, although she had a daughter, myself, who absolutely loved animals. I've wanted a dog since the first time I had ever laid eyes on one. It wasn't to be as I was growing up but I was able to have parakeets and turtles…things that could be in a cage. Needless to say, when I left home, the first thing that I did was get a dog, first a Great Dane named Hannibal, a year later a 3 lb. Chihuahua named Tinker-belle aka Stinky…and then later, another Great Dane named Kwincy. You can read about Hannibal, Kwincy and Stinky here: http://lynnwho.hubpages.com/hub/chihuahua-toy-dogs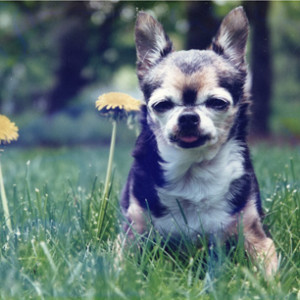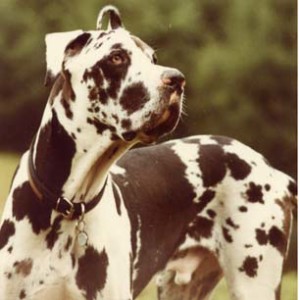 It was probably the happiest time of my life as I remember it. Of course the kids had lots of other animals over the years, but our house always had a dog. As the years went on, they of course passed away…when the last one, the Chihuahua named Stinky finally passed, I was so crushed that the family talked me into taking on 2 new Chihuahua puppies, Daisy and Peanut. Not sure I was ready to start over, but I did it anyway and it turned out to be a very wise decision. They were with me for many years, through thick and thin, with one still alive by the time my mother finally came to live with me.
When Mom came, she was already in the throws of dementia, although I didn't realize it right away. After awhile however, it was very apparent, although she was at the beginning of the disease and was able to stay at home during the day when I went to work. She was not a danger to herself at that point. She functioned well, although was recuperating from a broken hip and was a little paranoid and forgetful. When I left for work, I was usually gone from the house for 12 hour stretches, having 2 hours of commuting time. It was a long day for Mom and for myself. Daisy was there with her during the day and they formed a close bond. Daisy was very respectful about not invading her space, which was a relief. They were 2 old girls being respectful of each other and coming to depend on each other at the same time. My mother enjoyed her company and didn't feel alone in the house, and Daisy looked forward to the little treats that Mom would give her during the day…and also being let out back at mid-day. It was a really perfect situation, in that they helped to solve issues on both sides.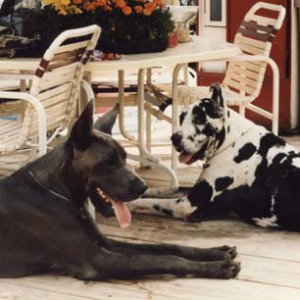 Photos: Top: (1) Tonya laying in the sun on her chair in the window, (2) Mom looking happy and healthy, (3) Hannibal looking very regal, (4) Stinky the Chihuahua at 14 years old, Right: (5) Hannibal and Kwincy lounging outside, (6) Mom and Tonya

Finally, Daisy passed away at home, at 14 years old. My mother didn't realize it since she was in bed, still sleeping when I woke up that morning. Of course, I had to tell her…and she was crushed. She made a sound that I will never forget, a sound of complete hurt and loss. She started to cry and was sad for a long time afterwards. I framed a nice big picture of Daisy and put it in her room to remember her by. It helped to keep Daisy alive in her mind. About a year, maybe a year and a half later, I bought a few parakeets to bring some sound and life into the house…and that it did. Parakeets are very noisy little birds and fascinating to watch. I kept them in the kitchen, which is where my mother loved to hang out during the day. I can remember that she would spend hours in front of the cage just whistling at them trying to get them to chirp back, which they would accommodate. I could tell that their presence changed Mom's behavior, in that she perked up from the void that Daisy had left in the house.
About two years after that, I ran into a rescue truck at the local pet store and fell in love with a terrier mix that American Airlines had flown in from California. Her name was Tonya and before I knew it, I had brought home a little girl who needed rescuing. I wasn't sure at all how this would work out because Tonya wasn't used to us yet and if the door was opened, she would dart out running as fast as a Greyhound. That in itself made me a little nervous, but in the long run, it all worked out. After while, Tonya became very close with Mom since they were home together all day long. Just as with Daisy, Mom would give her little treats during the day and they would become inseparable. It wasn't too long after that when Mom started to decline in her dementia, needing a home health aide. Once Cardine, her aide came aboard, Tonya got attached to her also, but would forever be Mom's protector with anyone new who came into the house.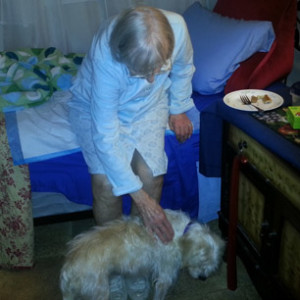 Tonya knew when Mom was declining and protected her even more so, laying by her bed all day, sleeping under her bed. After about a year, when hospice came in, Tonya knew exactly what was happening at the moment of her death. Dogs are very aware and in tune with things like that. She cried when it was actually happening. From then on, she slept alone in her room for weeks. I didn't know until later how lonely my mother was, until I found some journals that she had written after Daisy died. She wrote a draft letter to her best friend Noreen about how lonely she was after Daisy died but felt better when the birds came, because it brought life into the house and we all knew that she loved Tonya as well.
Bottom line for my situation is that having pets in the house was a great thing for my mother. There was no debating about me going to work every day…we needed a paycheck. So, having pets helped to fill the void in her day and gave her someone to look after, giving her a purpose. I think everyone's situation is unique and different, so a decision should be made on that basis. But in the end, I'm a fan of having pets in the house when caring for a dementia or Alzheimer's patient.