It's Memorial Day, a day to remember all of our servicemen who so bravely fought for this country. We all either know or are related to people who have served…and today is their day to be remembered and honored. In my case, my father and 2 grandfather's who served as far as I am aware of, one grandfather losing his life to the war. As I am enjoying my long weekend at home, I can't help but take time to think about what this day is really about.
My Mom and Dad were married a long, long time ago and although the marriage only lasted 5 years, I know that my father went on to love my mother for the rest of his life. I didn't know him very well since I lived with my mother until I was 15 years old, then went to live with my father at almost 17 years old at a point when I was a wild child. It was a rough time in not ever having a male role model in my life and lord knows he wasn't used to having a teenager in the house either. We made it until I was about almost 19 years old when I moved out to make my own way. It was neither of our faults really, just the nature of the situation.
Photos: above: (1) Dad's military portrait, (2) Dad in civilian clothing, below: (3) My Mom & Dad in the early years, (4) another really old military photo of my father, Edward Brophy.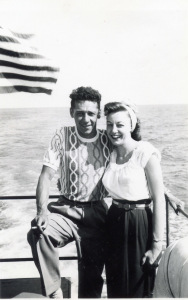 I remember as a child always idealizing my father, carrying photos of him everywhere that I went. Fact is a girl needs a father as he's the first male role model in her life and will form all the rest of her relationships with men moving forward. As with everyone, I grew up, got on with my life, had my own family and very often, having the same rocky roads, and as the saying goes…history repeats itself. No matter, I am fine, and I think that I've turned out pretty well considering the bumps in the road.
My Dad loved to dance, loved his beef stroganoff, beer, a good party, football and loved to watch the old war movies on tv. As with many servicemen, it's almost as if he couldn't get his military days out of his heart and soul. His laugh was talked about throughout his whole life because it sounded very funny, almost like a donkey, lol…it made other people laugh too. He was also, oddly enough, rather reclusive and kept within himself for the most part. He had strange beginnings in that his father, my red-headed grandfather, died while serving our country. His Mother, Helen, couldn't deal with the loss and had a mental breakdown leaving her unable to handle everyday life. My father eventually had to go to live with his cousins who took care of him. I never knew either of my father's parents, my paternal grandparents and only found photos of them after his death. For some reason he didn't want to share these photos with anyone.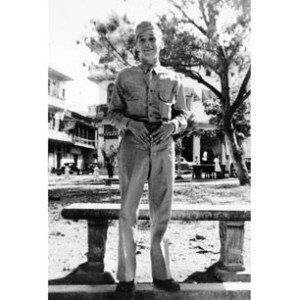 This past September, after a long bout with dementia/Alzheimer's, Parkinson's and finally leukemia, my mother passed away. In the months afterwards, I've been slowly going through her papers and journals finding an array of things. One of these things are the above photos of my father. They were hiding neatly behind my original birth certificate, which back then was a letter sized certificate with a newborn footprint along with the usual information, set in a padded presentation folder. I was amazed to find these photos and it was if she wanted me to find them someday when the time was right. I'd say the timing was very good since I am able to post them on the first Memorial Day after her death. Dad has been gone for many years now, after a battle with smoking related heart disease and emphyzema, but I'm sure he would be happy that I finally have found these photos when I did.