Today is the first anniversary since my mother, Eleanor Van Meter passed away from a combination of diseases including Dementia/Alzheimer's, Parkinson's and Leukemia. September 28, 2014 marked the beginning a year filled with firsts. The first Halloween, the first daylight savings time, the first Thanksgiving, Christmas, New Year's Day, Mom's birthday, Valentine's Day, Easter, Memorial Day, Fourth of July, Labor Day, etc. I'm sitting here on September 28th, a year later in 2015, reflecting on what this year has meant to me.
I didn't exactly know what to expect during the first year, but I can see that at least a year is needed to come to terms with a death of a parent. Because the year after a death will always be significant while dealing with of all the firsts, it's probably the hardest year you will ever go through. The fact that it's a parent, compounds the intensity even further. I don't care if parent and child got along well, or didn't get along well, if they were best friends or estranged or indifferent, the effects of losing a parent are unique, because your parents are the reason you are here on this earth. There's never been a time since you were born that they haven't been on this earth, until they pass away. Again, it doesn't matter if you saw them everyday or once in a year, it's a powerful event for the child/adult to process and come to terms with. For me, this past year was a time to create a new normal.
Photos: (1) above: Mom, young and full of hopes and dreams, (2) below: Mom (Eleanor) and big sister Lillian, (3) Mom and Lynn (me) in my room at her mother's house. Contrary to this photo, dolls were not my thing, but it was a gift from my father….soooooo, (4) Mom, a few weeks before her death.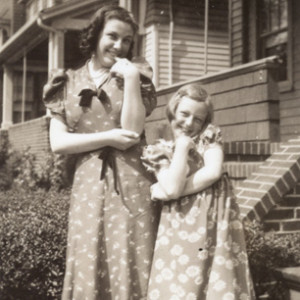 Mom had a combination of a good life and tragic, all rolled into one. When I look at her childhood photos, I see a happy, normal little blonde haired girl who obviously looked up to and adored her big sister Lillian. That feeling had reflected in our many talks over the years. As she matured into a young adult, she somehow started showing symptoms of what we now know to be Obsessive Compulsive Disorder. It was that disorder that was to become the tragic part of her life. She had said that she was sick a lot when she was young, causing her to miss a lot of school events that were important to her. She thought a possible reason for the OCD was in her determination to avoid germs at any cost. She also once mentioned that a bout of strep throat could have been the cause of the disorder, but I suspect we'll never know the real reason. What I do know, is that this disorder had caused her 2 marriages and a lot of lost joy in life that could have been. OCD held her hostage in a solitary world which finally left her communicating through phone conversations as she got older.
During her working years, which was also something that she aspired to do since childhood, was a success. She had prestigious positions over the years and was able to hide her OCD while at work. For that, I am grateful, because working in Manhattan was probably her biggest childhood dream fulfilled. Through her working years, she met Dwight Van Meter, her second husband and the love of her life. He was 20 years older than her but it was so obvious that it was a relationship that was made in heaven. He passed away in 1985 and she spend the rest of her life mourning him. Strangely, they were married on September 28th, the same date that she died. Coincidence? I don't think so. They are together again.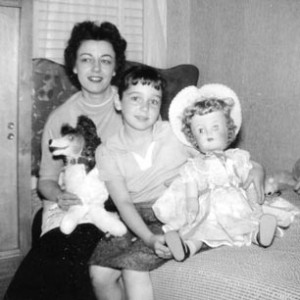 My mother was a really good, kind and decent person throughout her life. She raised me the best she could with the challenges that she faced everyday, and with the help of her mother, my grandmother, I became the person that I am today. I can say that I was quite a handful, but in the end, it all worked out well. She worked a lot and I was very much on my own, but it was through her and her mother's family traditions and morals, that I was able to pull through in tact.
By the time she came to live with me all those years later, she was quite a bit older, very frail, set in her ways and showing the signs of dementia. I didn't realize at first but after awhile, it became obvious…and even then I didn't know what was down the road. Dementia/Alzheimer's disease is an awful thief in the night, stealing your memories and dignity without a concern of the chaos it causes within the brain of the person it's destroying. While she was here for over the course of 6 years, we were able to have nice conversations, dinners together, watch tv shows, get-togethers with neighbors her age, go shopping…in short, we were able to resolve and make peace with each other in the last years of her life. Not that it all was good times with the challenges of the progression of the dementia, but the good is what I choose to remember.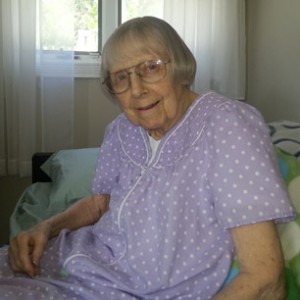 On this day, September 28th, 2014, things were happening all over the world:
George Clooney and Amal Alamuddin married in Venice.
Volcano in Japan erupted with 30 feared dead.
Baseball season comes to an end.
Kenyan man Dennis Kimetto sets marathon world record.
Air France Pilots end strike after 14 days.
Brigitte Bardot turns 80. Ben E. King and Hilary Duff have birthdays.
Eleanor Van Meter, my mother, got her wings.