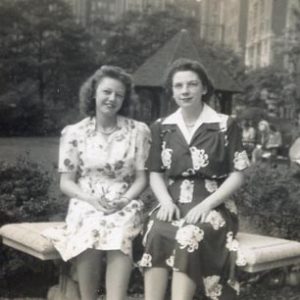 It's been awhile since I've last posted, probably because of my schedule due to lack of free time and a bit of procrastination all wrapped up into one. Losing my mother to dementia, Alzheimer's disease is something that I am finding that you never really get over, never really get past. After years of caretaking a parent, it's always lingering in the background whether you are speaking out loud about it or not. You carry on with your life, moving forward, but there is always that one thing that is hanging around in your head regardless if you are conscious of it or not. Whether you are a caretaker of a parent with Alzheimer's or just dealing with a parent living in a nursing home suffering with the disease, the end result is always the same. Alzheimer's disease takes no prisoners, no hostages…it wants the whole enchilada, and it always wins, with the people left behind feeling an unexpected void.
It's been a little over 2 years since my mother got her wings, with this past Christmas and New Year being the 3rd. You'd think I would have gotten used to it by now, but I'm not and I seriously doubt that people ever get over it. Caretakers and those left behind deal with the road never traveled. Every day is a new day, and every memory is a welcomed one. I grew up in a broken home and we had no real holiday traditions to speak of, but while she lived in my house when care taking her, she got great pleasure in helping me decorate the Christmas tree. Because of her disease, decorating made her childlike and filled with joy. Because of that brief connection during the holidays, I relive it every year when decorating the tree. I'm happy that it doesn't depress me, but instead it adds to the joy of the season and has become a good memory. For some people the holidays become a very depressing time because they can't accept the void that they are left with after their loved ones passes. I am finding that trying to hang onto the good memories is the way to go… and also for your own well-being able in moving forward.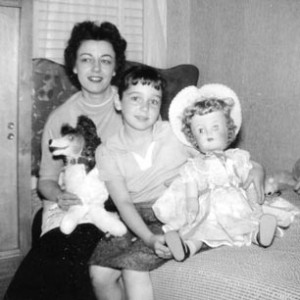 Photos: Top: Mom, (left) with big sister Lillian in 1942, left: Mom & me years ago, below: Mom (middle) with our neighbors and friends Eleonore & Gene on her second to last Christmas Eve.
Being a caretaker is probably one of the hardest things that I have ever taken on. I used to think that parenting was the hardest job in the world, but for me, care taking proved to be the most difficult. You are literally changing roles with your parent…the same parent who you looked to for guidance and support during your whole life, is now your child. Now you're in the position where they are't capable of making the simplest of decisions, caring for themselves, paying bills, driving, etc. They become the child and you become their parent, which can be totally humiliating for them and overwhelming for you, especially since they do know that their brain is failing. They are very much aware that something is happening to them but they are hard pressed to  understand why it is happening or how it is happening which creates a major dilemma for them. Some families adjust better than others, yet some can have years of turbulence in the house since it is the nature of the disease to create chaos in families. Having gone through both sides of this scenario, I can understand how each side feels, and I know it's not easy.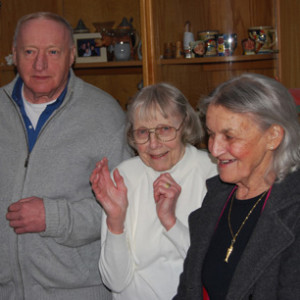 While in the middle of the situation, we have no idea how we will react once our loved one has passed because in reality, we are in the middle of a war with no end in sight. We did the best we could while going through it, sometimes acing it and other times bombing at our caretaker role, but I now know that it is perfectly normal. What I didn't expect however, was how I would feel and react after being a caretaker, after the curtain came down. I now know that afterwards, it's a completely new journey and none of us can anticipate what that journey will be because it will be different for each person. I'm well over 2 years into my journey and I am still not exactly sure what I am doing or how I feel or even how I should proceed. Basically, it tends to be a one day at a time thing and you do a lot of winging it.
Happy New Year!
For me holidays are mostly melancholy with this one being no different. So with this New Year, 2017, I am hoping that I continue to progress on my path moving forward and continue to have good memories during the holidays. I wish all the caretakers dealing with this horrendous disease, strength, patience and peace for the upcoming new year as it will more than likely be a challenging one in many ways.