Now, reflecting back after Mom's passing from dementia and leukemia, I had always known, that as she was growing up she wanted a career in the workplace. It was common knowledge and I remember her speaking about her childhood desires many times through the years as I was growing up. Although I can't recall a lot, I do remember having to call her when I got home from school and her answering the phone with that very deep professional voice "Bozell and Jacobs" that almost sounded melodious. That voice of her answering the phone has been eternally burned into my mind. Bozell and Jacobs was a hi volume, high profile advertising agency where she had worked directly with one of the higher up executives. When her boss, Mr. Hoover, the Chairman of the Board moved on, she interviewed with Teddy Walkowitz, the head attorney in charge of the Rockefeller Family Foundation back at that time. This foundation handled the Rockefeller family fortune and was a very important position for her. As she had always hoped, her career had bloomed into something very professional and was something that she could be proud of.
The above photos: (A) A very young and pretty Mom sitting next to Morey Amsterdam at Bozell & Jacobs Xmas party in either 1958 or 1959, (2) Mom at party with Merv Griffin handing out envelops. He must have just called her name as she raises her hand. Below: (3) The love of Mom's life, Dwight Van Meter
She held this position for many years to my knowledge. Along the way, I remember her speaking about other positions that she held, ABC, Forbes Magazine and Scientific Applications in CA, until she decided to retire to take care of her very ill husband whom she had met in Manhattan, back in the day. Somehow, she was in with the executives with different companies and met the love of her life, Dwight Van Meter. He became the most important thing in her life and with that she moved into Manhattan, leaving me in Jackson Heights with a girlfriend and her father. They went on to live together and then moving to Encinitas CA where her love of southern California developed. It was there that she worked at Scientific Applications after going through a routine of high security just in order to be hired.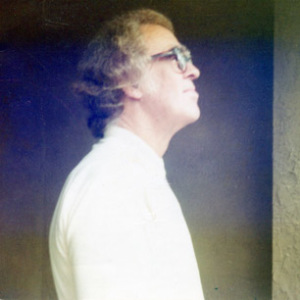 Van, as he was called, was about 20 years older than her and became ill at some point. After collapsing in his driveway, it was determined that he would come home for the remainder of his life, where my mother chose to retire and care for him. His death set forth many years of depression for her, diving even deeper into her OCD disorder. We would have our weekly chats on the phone on Sundays, just as her mother did with her and then as tradition would have it, she also did with me. While on the phone, everything sounded normal with her, always with the professional voice on the phone, but as I came to realize, everything was anything but normal. I didn't realize how badly her condition had progressed until many years later when I traveled to CA to bring her to live with me six years ago.
Looking back on Mom's life, yes, it was rather tragic with her OCD since the age of 15, but she had accomplished her most important life goals of being both successful and professional in her career in Manhattan. She had an excellence in everything she did in her professional life and was well liked and proud of her accomplishments…and so was I. She was very smart and sensible. Eleanor Brophy as she was known back then and later becoming Eleanor Van Meter, proved she was to be reckoned with in her lifetime. I am very grateful that she retired before her dementia set it as it would have destroyed all she considered dear in her life.
Her one living friend, Noreen Barsh had been with her since the early days in Manhattan and had been a faithful friend ever since, right until the end. After Mom's death, Noreen, in several phone conversations from her home in Texas, had told me about how very classy Mom was at work. She told me about how much she was respected at work and how they relied on her. There were so many things about my mother that I hadn't known before…especially about her professional life. The things that Noreen told me, made me proud of the person my mother was. Noreen is about 6 years younger than my mother and interviewed with Bozell & Jacobs back in the late fifties when Mom hired her. They went on to become great friends for the rest of her life. Noreen called her every weekend and sent her little things in the mail while Mom was living with me. Even though dementia inhibited the conversation, Noreen would just talk and talk to her, talking about the good ole' days. Life with dementia wasn't easy. God bless Noreen for that! It made my mother very happy when she called and was sometimes even able to sound normal and join in with the conversation. That is what's called a lifelong friend!