Photos: (1) Mom opening her gifts, Xmas 2013, (2) Our Skinny Little Xmas Tree,
Below: (3) Mom at Xmas Time in California during Better Times. 
Holiday time is upon us and it will be the first Christmas since Mom's death. Still hard to believe, but it's the first Christmas that she won't be around…in California or here with me…feels a little strange. I guess the first holiday, things always feel strange and definitely commands thought.
As I put up the little tree last weekend, immediately, thoughts go back to last year when Mom actually helped me to decorate the tree, which was unusual. Since she came to live with me, she seemed childlike at Christmastime and even though she didn't have any want-lists, she seemed excited the same way everyone feels this time of year. The season seems to bring out warm feelings in everyone and she was no exception, even with her state of mind and the depth of her dementia. I'd give her an ornament and say….ok, find a nice spot on the tree for this one. She would look around and after carefully thinking it over, then put it in a good place. She'd stand there looking at everything just being happy with the day and the excitement in the air.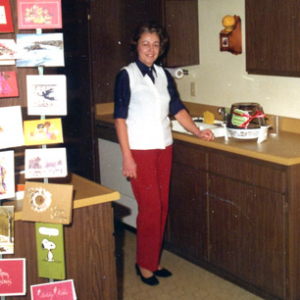 When Mom lived by herself in California, I'm sure she must have felt the holiday spirit since she would always send a gift and cards filled with love and holiday spirit. But I know in my heart that she didn't have a tree or decorations around the house. I don't think it was because she wasn't feeling it….I think it was more associated with the OCD disorder that she suffered with which was crippling to her.  And, for all I know, the dementia was probably slowly creeping in giving her a slanted way of handling things. Coming to live with me is really the best thing that happened to her since she lost her husband Dwight Van Meter. Even with the dementia marching on, I believe that she started to enjoy life a little more than before knowing that she had no worries with her caregiving. We live somewhat normally, well, as normal as you can these days…but it was good for her to be around people to pull her out of her comfort zone.
This time of year, we should think of the people, like my mother, who have disorders, diseases and circumstances that prevent them from enjoying life and the warmth of the season. Today's world has become very commercial and because of that, sometimes remembering the spirit of the season is forgotten and these people who are just a little bit different, are lost in the shuffle. It's not about the biggest and most expensive gift you can get….its a celebration and the warmth and opening of hearts on this important day for Christians. Because Mom lived during the depression, she as all the people back then, got back to basics knowing that there was joy in the season in just being with family, together in a warm home, with a holiday dinner, being grateful for what they had. I wonder how the elderly people in nursing homes are feeling, those who don't have the luxury of being with their caregivers and family members during the holidays?
Today, I am thinking about the elderly who have nobody during this holiday season!