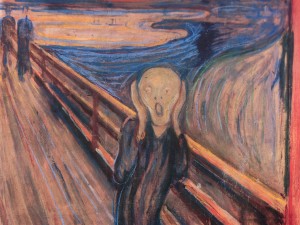 Last week at work, I was having an interesting conversation with a co-worker / friend about the differences between dementia and Alzheimer's disease. We both were having trouble coming up with a definition. The 2 terms are used next to each other all the time and many of us really don't know the difference between them.
When my mother was diagnosed with dementia after her brain scan, I was never told what type of dementia that she had. I still don't know. I've asked the doctor a few times but he never really gives me a breakdown of her dementia diagnosis. The word Alzheimer's was never ever brought up in conversation so I can only assume that she is not suffering from that end of it. Since her father also had dementia and she seems to be following in his footsteps and appears to be a textbook case of everything that I've ever read, we consider her having dementia.
Yesterday, I was having a haircut with a who I've gone to for almost 30 years. I have followed her from salon to salon because she is about the only person in the world who knows every cowlick on my head and every twist in my fine hair… she knows almost every little thing about me after all of our appointments over the years not to mention all the conversations that we've had about our families and life in general. She's very informative and seems to know a lot about a lot of stuff! I guess that's only natural when your occupation revolves around conversation with your customers for many years plus the best haircut in town!
Sitting in her chair, we were going through our usual what's new conversation when she had asked about my mother.That brought to mind my talk with my co-worker, so I mentioned that to her.
Just what is the difference between Dementia and Alzheimer's disease?
 Why is it such a dilemma when trying to nail down an exact definition? Good question, I thought to myself. With that, she says…I was just talking to one of my customers the other day about that, who just happens to be a nurse. She gave me a very simple and easy way to tell the difference.
She said: Dementia is when you can't find your keys, for example. You misplaced or hid them and can't find them. Alzheimer's is when you don't know what a key is. That was about the best analogy on the subject that I've ever heard. That made it crystal clear about the differences between Demenia vs. Alzheimer's disease.
https://www.facebook.com/pages/Boomerang-Parents/819842241360009?ref_type=bookmark
[contact-form][contact-field label='Name' type='name' required='1'/][contact-field label='Email' type='email' required='1'/][contact-field label='Comment' type='textarea' required='1'/][/contact-form]