With all the other struggles that my mother suffering with dementia had faced, I always found that when she was in her creative mode, she thrived. Her creativity seemed to blossom as she began her decent into dementia and there were times that it kept her busy for hours during the day. That's not to say that she didn't get creative before dementia, she did, but I think that her life of working, left her with no time for much else. Now, at this point in life, I believe that art therapy for seniors can be a wonderful thing.
When my mother lived in San Diego, over the years, she would send cards for special occasions that always had her special touch on them. Sending store bought cards as is, just signing her name at the bottom wasn't ever good enough for her. She always had to make them just a little bit more personalized, more colorful and more special for the person receiving the card. She wasn't able to buy expensive gifts, but her cards were an envelope full of love, thoughtfulness and happiness.
After she came to live with me, she of course didn't send any more embellished cards, but while she was able, she would make little cards and notes with her colored markers and white paper, always trying her best to put thought into what she was saying, which you could see became a struggle for her after awhile. But it didn't matter, she still shined through in spite of the struggle. One autumn day while I was at work, I came home to find brown paper bags cut into the shape of leaves and scotch taped to white paper. There were even 2 that were reversed, showing the brown paper through the diecut in the white paper. I thought that they were so creative considering the stage of dementia that she was stuck in, that I hung them on the wall in her room, just as you would your child's artwork. I was glad that she was still able to engage herself into something artistic and follow through to complete the project. She was making a connection with the brown leaves falling from the trees outside her room and created something out of that thought. It was child-like, but just knowing that she was able to do that in her steady void, made me happy.
Photos: Cut out leaves from brown paper bags taped to plain white paper made by Eleanor Van Meter, Eleanor Sarter, in the throws of dementia. Good job!
Below: Mom looking very young and pretty with her whole life ahead of her. Who knew what the future was to hold for her?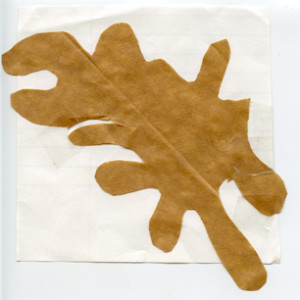 Some days while her Home Health Aide, Cardine was here, they would sit and color together in the afternoons, when the sun was coming in from the back of the house where her bedroom was. Cardine would encourage her to do puzzles, games and various other things but she really seemed to get a kick out of putting color on paper…or clothes…or sheets or her blankets, haha. After awhile she would just put her markers on anything, which isn't really where I wanted her to go with this, but after all is said and done, if it made her happy, why not.
She liked to have notebooks and purple and pink pens where she would try and create characters for a children's book that we had once planned to write together. Since she was the writer in the family, she was going to write the story and I was going to do the illustrations. Of course, we never got to that point, she's was no longer capable of doing that, but I still have hopes in trying to write that little children's book, with the help of her ideas that she had left me with. Why purple and pink, I'll never know, but it occurred to me on how ironic that purple is the also Alzheimer's color…very symbolic. Once a dementia patient gets fixated on something, far be it from me to try and change their mind….she wanted purple, I found all sorts of purple pens for her every time I went out.
She was also once, a very good poetry writer and had folders of poems that she had written in the past. She would look over them for hours, organizing the pages and just staring at each page and I know in my heart, that she wanted to write more poetry, but her brain wouldn't cooperate, which I found very sad. Even though she wasn't able to write, she wasn't done yet! She still had that need for creativity in all different forms, but she was no longer able to handle anything more than scribbled color on white paper. What can be sadder than losing brain function and knowing it's happening to you? I know that she knew because we had talked about it at times. She knew it was happening…how awful to know the things that you want to do and say, but not being able to do it?
So, what I have learned from caring for my own mother with dementia, my advice for caregivers of Alzheimer's and dementia sufferers would be, to get them involved with the creative world, in direct line with the capacity that they are able to handle without getting frustrated. There are so many different forms of creativity that can be introduced to them…there is something for everyone. It doesn't have to be complicated, but just something simple where they can express themselves and will make them feel as if they accomplished something. There are special programs out there that focus on music and art therapy for seniors. Some actually come to the house for home bound patients and others can be found in adult day care facilities. You can research this for your own area, or you can set up your own ideas with your family member since you know them best. With stores like Michael's and Joanne's
Fabrics, there are all sorts of ideas for simple projects to try. It stimulates and challenges their brains, which is very healthy for people in brain failure. It can help to slow down the progress of the disease, plus make it a good day for your loved one. And we all want a good day!