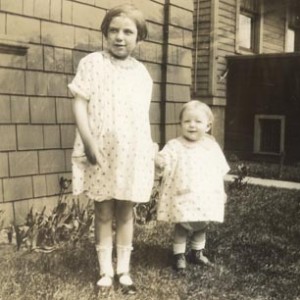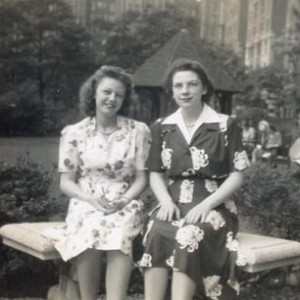 It's Easter Sunday, the sun is out, temps a bit cool, but it's a happy, positive and upbeat day! The house is quiet and peaceful, just the way I like it and Mom started her day, on a bad note. She apparently got up in the middle of the night after having a little accident and took some of her night clothes off…so she woke up a little wet and cold. No matter, I got the situation under control and we were off to a better start. Got her breakfast, the Sunday newspaper and we sat together reading and eating. You never know what to expect with dementia or Alzheimer's disease.
Photos: (1) Mom and Lillian as young ladies, (2) Lillian and Mom considerably younger, (3) Below, Mom and Lillian again, very young, probably 1929.
This afternoon, Mom is wandering around the house appearing to have a good ole' day and I am sitting here thinking about Lillian, her big sister. Mom spends a lot of time talking about her older sister who she worshiped, as they were very close as they were growing up. Lillian passed away very early on of Leukemia, leaving 4 small children and a husband. They lived on the other side of the United States in the state of Washington, so we didn't get to see her before she left us. Back then it was a big deal to fly across the country, especially for my grandparents who never ate out, let alone get on a plane to fly cross-country. I know that my grandmother had always felt somewhat guilty for Lillian's Leukemia, even though she had absolutely nothing to do with it. Never-the-less, she couldn't shake that feeling.
Lillian was a kind and gentle woman who was not only very intelligent but was lucky enough to have gone to college as well. She had always wanted to be a mother and was blessed with 4 beautiful children, Michael, David, Maggie and
Sam, my cousins. I don't have any siblings, so these first cousins are close to my heart. Matter of fact, there was a time that I almost became a part of their clan when Lillian and Bob wanted me to permanently come live with them when my mother's OCD was out of control. Mom actually never wanted to be married with kids as Lillian had. She had only wanted a career in Manhattan which she had accomplished, it was her dream. I was really only holding her back when I think about it now…but she was a trooper. I never actually knew that fact as a child, so she hid it well. I've always wondered how my life would have been different if that had happened? I suspect, I would have been more educated, had more people skills, have made better choices in my life and would have had a male role model in Uncle Bob not to mention a very present mother figure. But that's all hindsight now…we only have the here and now. Everything happens for a reason.
As a child, I remember Lillian and her family coming to visit my grandparent's house, which is where I was most of the time while growing up. It wasn't a big house but we always found room for the McCracken clan when they came to visit. To my delight, we kids would camp out on the floor on a big quilt in the living room. Aunt Lillian would come in and read to us…I thought it was amazing. Nobody had ever read to me when I was a kid…just Aunt Lillian, in her very soft, expressive and compassionate voice. You couldn't help but love her. She was living her purpose, on her life's course and obviously was very happy doing what she loved to do. And her kids loved her so much…they were lucky to have her and I believe they knew it. To me, they seemed to have a great life, great parents, brothers and sister…what could be better? Who was to know how things would change so drastically in the future with the passing of their Mom. It would be a life changer for their family.
From what I can remember, Lillian took after her father, my grandfather, who by the way, had dementia in his later years. She seemed to have more of him than my mother did actually, but that's only my personal observations and opinion. I often wonder, had she of lived, would she be in the middle of this dementia curse as my mother is? We will never know. We only have the wonderful memories of Lillian and although Leukemia took her, she was spared the torture of dementia.
When I had originally written this post a year ago, I didn't know that my mother with dementia would be gone by now. I thought for sure that I could get her to 90 years old…a milestone for our family, but it was not to be. Out of left field, she was diagnosed with Leukemia of all things, like her sister. As if having dementia and Parkinson's wasn't enough…she developed Leukemia. She was gone less than 2 months later. What are the chances that sisters would both have Leukemia? Hematologist told me that they both were probably exposed to something as children. Could my grandmother have known something, or suspected something, therefore feeling guilty all those years? I guess that I will never know the answer. She's with her sister Lillian now, running around with the angels…waiting to welcome us someday.


[contact-form][contact-field label='Name' type='name' required='1'/][contact-field label='Email' type='email' required='1'/][contact-field label='Comment' type='textarea' required='1'/][/contact-form]