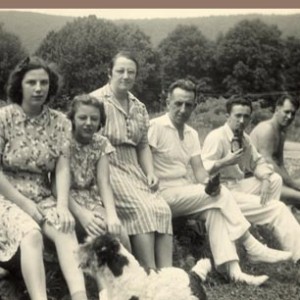 Hi-Ho-Hi-Ho, it's off to work we go…My mother has always loved and aspired to be in the work place. Growing up in her parents house, she would hope and dream about someday joining the work force, being in Manhattan, working for a company while doing what she loved. It just goes to show you how different we are, as I had always aspired to be my grandmother, a wife and home maker with absolutely no desire to work outside of the house. While I can accomplish more at home with respects to creativity and home, my mother felt more useful in the office. Maybe her desire to be in the work place had something to do with her mother being a home maker…and maybe my desire to be a home maker is because her my mother wanting to be in the work place…who knows. I guess  you can drive yourself crazy trying to analyze it when in reality, it is what it is.
So, now with mom smack in the middle of late stages of her disease, she still aspires to go to work. She has verbalized this to me in the morning while I am making my exit out the door for work. She has said "sure wish I could go to work instead of you". I say "so do I"…And at other times while in the middle of a dementia attack, she would even try to leave the house to go looking for a job. Leaving the house became a quite a dilemma, therefore needing to get a home aide while I was at work to keep her safe.
To compensate for her great loss, she now goes through papers…any papers, old bills, newspapers, notes, letters. She lays them all out on her bed very neatly being mindful to make little organized piles covering half of her bed. Not sure what type of filing system she has but she seems to know what she is doing. One morning when Cardine, her home aide, was here during the week, she told me that my mother was worried that nobody would show up for work that day and that she would have to send Cardine home and close up for the day. She was imagining that she was running a business here at home and that because of the snow, nobody would be coming that day. I found it amazing that a person can be so into their own head, remembering so long ago and continue to try and act out what was so dear to her, while somehow making herself feel at peace. The mind is a strange thing and everyone is unique in the way they compensate.
So now, I try and leave out her boxes of papers so that she can organize and file when she has the mind to, keeping her busy, literally for hours upon hours. She has a closet filled with games, puzzles, playing cards, coloring books, but it is her papers where she feels most useful and at home. I think the word useful is the key word…back in her day, she worked at some very prestigious companies with very important positions, working closely with her boss and co-workers. She felt useful and needed, and knew that she was very good at what she did. They relied heavily on her and she took it very seriously. Hanging onto her work life is a way of hanging onto who she once was, who she still aspires to be… well, actually who she thinks she still is. She may have this terrible disease called dementia, but deep down inside, she is still the much needed and useful person she once was.
The image above shows Mom's family…Sister Lillian, Mom, Mother, Father, Cousin Raymond and Uncle Sam. Taken up in Greenwood lake where her Aunt Adlaide lived. Who knew that young girl had such deep thoughts on where her life should go….but the good news is, that she accomplished it…she lived her dream…she was a valuable employee to the likes of the Rockefellers, ABC, Forbes Magazine, Bozell & Jacobs Advertising. She was good at her craft and she was valued and needed. What more could a person ask?
[contact-form][contact-field label='Name' type='name' required='1'/][contact-field label='Email' type='email' required='1'/][contact-field label='Comment' type='textarea' required='1'/][/contact-form]