Photos: (1) Xmas day & dinner at my Grandparent's house. Mom, her Father (also with dementia) and Lynn…a lot of clashing fabrics going on there, (2) My Grandparents, Mom's Parents on Christmas day modeling a few gifts! I'm sure my grandmother was mortified. Below: As a Man Thinketh
During these "Holi-days", I've been thinking of my Mom, Eleanor Sarter, Brophy, Van Meter, whose physical presence is missing, but her huge footprint has been left behind for me to observe, feel and ponder. She loved poetry of all kinds and had many books that she used to look at over and over throughout the years, while marking the pages of some of her favorites. There was a book called "As a Man Thinketh" by James Allen, that she particularly loved. Years ago, before computers, she had typed up this one passage from the book that she obviously found great comfort in. She made hundreds of copies and shared them with everyone. I have many of them in my papers throughout the years and I had found numerous copies tucked away in her papers as well, after she passed away. It reads as follows:
Ideals
As you think, you travel; as you love, you attract. You are today where your thoughts have brought you, and you will be tomorrow where your thoughts take you. You cannot escape the result of your thoughts, but you can endure and learn, accept and be glad. You will realize the visions (not the idle wish) of your heart, be it base or beautiful, or a mixture of both, for you will always gravitate toward that which you, secretly, most love. Into your hands will be placed the exact result of your thoughts; you will receive that which you earn; no more, no less. Whatever your present environment may be, you will fall, remain, or rise with your thoughts, your vision, your ideal. You will become as small as your controlling desire; as great as your dominant aspiration.
James Allen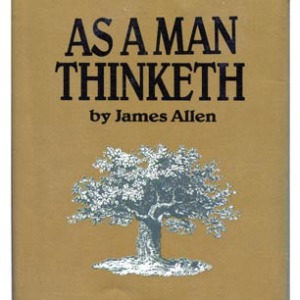 I've looked at it over the years and even put a copy up on my refrigerator…but I wonder if I ever really, truly read it as thoroughly as I have since her death. Of course I read it, but did I understand it from a deeper level? I'm not so sure. She was a very deep and pensive person in her day and loved to get involved in passages like this one by James Allen. When I read it now, I realize that I must take responsibility for where I am in life today, because it's true that our thoughts lead us to where we are today. Our thoughts can be our greatest success or our worst failures in life. We often go through life not realizing that our thoughts can mold us into who we are or intend to be and lead us to the right way or the wrong way….so then who do we have to blame for a bad circumstance in life…yep, ourselves. Maybe if we picked our thoughts more carefully and intentionally, we could all be in a circumstance that could be embraced.
James Allen says that we will always gravitate towards the things that we most love which many of us never really pay attention to. We pick our college courses, career paths and jobs and then find ourselves in situations that are absolute drudgery, just to put a roof over our heads. We resent our alarm clocks that wake us up in the morning on Mondays, only to pray for Friday to come quickly. That's a terrible way to go through life. We are wishing our lives away. Then, when we are on our personal time, we do what we love to do…or we get stuck doing what we must do in order to be ready to go back to work on Monday…therefore, the phrase Rat Race. Wouldn't it be a wonderful thing if we could all go through our lives consciously, wide awake, choosing how we spend our time, whether it be making a living or personal time or hobby. Using our thoughts to mold our lives into that wonderful place where we could both enjoy and support ourselves at the same time. As the saying goes…do what you love to do and the money will follow… but as we all know, it doesn't always go that way. Some people have had it figured out from an early age…and some of us are slow…like myself!
Mom obviously saw herself somewhere in this passage and I try to think of exactly what she was thinking, with regards to herself. She had a very hard life with her OCD disorder from the age of 15, so it is my guess that she dreamed on how she could create a better life, or circumstance for herself with her thoughts. She was a good person with very good and pure thoughts, never being mean to anyone in her life…so why was her circumstances so difficult? Obvioulsy, in her late years, her thoughts were disintegrating rapidly from dementia, and she was quite aware of it, making her very sad. But, I wonder, was she able to use this passage to her advantage before her dementia took hold? I'd like to think that it gave her peace to think it was possible.
Thinking of you Mom, on this first Christmas day without you here. Merry Christmas wherever you are!