It's been a very long week in our house. I am feeling that Mom has downward spiraled to another stage of this horrid disease. Her dementia care keeps needing updates without warning. The dementia stages are mind boggling if you are not ready for them. She's been trying to leave the house more often in the day. There was a time, where she used to only try to leave when sun-downing at the end of the day. Now she is starting her dash to the door at a moment's notice, at any time of the day, which can be set off by just asking her to wash her hair or take a bath. Somehow I can hardly picture her dashing to anywhere since she shuffles and walks at the speed of lava. A few times, poor Cardine, her home aide, had to text me to call the house so that I could talk her off the ledge. She would be so determined to leave the house…go look for a job, look for an apartment, go to find her mother, just whatever came into her head.
It's becoming a dilemma. Thankfully, we are due to go to the doctor this Wednesday for her progress checkup, so this is something we can discuss at this visit. Having said that, I am already stressing about getting her to cooperate in getting dressed and out the door. Hopefully I can put on the Pavarotti Cd which will make her calmer and more cooperative. What I suppose will happen, is that the doctor will up one of her meds, but at the same time, I don't want her to be sleeping all day long either. She's finally sleeping at night so I don't want her days and nights mixed up. Plus she needs to have her brain engaged with something that makes her happy. It's the only way to slow down her progression of this nasty disease.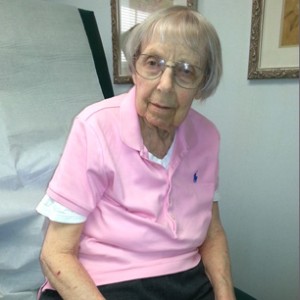 Another issue we've been having is that she will almost be falling out of the bed by morning. She leans to one side, never the other and by the time morning comes, her head is on her night table, not a good thing. It's just too strange. I've tried putting her in the middle of her bed at night but she is still hanging off by morning. Might be time to get a bed rail, which she will be none too pleased with…another daily challenge I see coming. We shall see.
Photos Above: (1) Mom on the left and Theresa my mother-in-law on the right. (2) Mom way back when she was working, living in San Diego, sitting in front her her typewriter, something that she loved. The good ole' days…before our parents were boomeranging. Below (3) Mom at the doctor's office.
Theresa, my mother in-law (pictured above) went on to be called Oma by just about everyone, including me and my Mom. She is still with us, happy, healthy with the exceptions of a few age related illnesses, but she's got her head thank goodness. She presently lives with her daughter in CT. and is another Boomerang Parent. I wish that my own Mom was that lucky!


[contact-form][contact-field label='Name' type='name' required='1'/][contact-field label='Email' type='email' required='1'/][contact-field label='Comment' type='textarea' required='1'/][/contact-form]