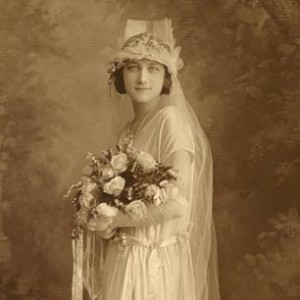 Today is my grandmother's birthday…February 13th…the day before Valentine's Day. She would have been well over 100 years old by this time. A day that I can never forget..I will never forget, February 13th. She was my rock as a child. This was her wedding photo. I can't help but notice that she had eyes like blue ice. I thought she was pretty as a young person. It's actually hard to believe that your grandmother could ever have been young, but they, just as we, were once young and vibrant, now a thing of the past.
Well, it's common for a dementia patient to be looking for their parents and that has held true for my mother throughout her disease as well. We went through this long period of time where the main focus of her day, mostly at sundown would be spent looking for her mother, and Cardine would have to stand in front of the door to prevent her from leaving to look for her. What is that? Is she just going back to a good time in life, and therefore remembering her mother? Or perhaps, she is thinking that she is 10 years old, or in a crisis where she needs the good advise of her mother. We will never know.
There is one thing that I do know. I was home, yet again today from yet another horrendous winter storm, a classic noreaster, that the northeast has been facing this year, when my mother walks out  to me looking for her mother. This hasn't happened for a very long time and I guess, it got me to wondering. While cooking dinner tonight, low and behold a thought goes through my head…OMG…it's my grandmother's birthday today. Of course she came to me looking for her mother…even though she is void of her memory, a black hole, but somehow, some way she knows. It's her mother's birthday today but doesn't know how to verbalize it and probably can't even make sense of it. The thought of her mother is just there at the top of her mind. This was astronomical for me as a believer of this train of thought. I truly believe that her mother was here, in this house today, although I am not in tune enough to know that…somehow, some way, I believe that…all unexplainable.
Her mother, my grandmother was a crucial role model for me and she was something to behold. She was very old fashioned and very dedicated to her family. She took me on even when it was too much for her, as I was quite a handful as a child. My mother relied heavily on her to fill in when I was sick, on weekends, summers, holidays or just whenever and I loved every minute of it. I thank god for her as she is the reason that I am as normal as I am. I have always aspired to be just like her. Again, be careful for what you wish for in life. She died from the stress of taking care of her husband with dementia. I miss her as much as my mother does. Happy birthday Grandma!
[contact-form][contact-field label='Name' type='name' required='1'/][contact-field label='Email' type='email' required='1'/][contact-field label='Comment' type='textarea' required='1'/][/contact-form]