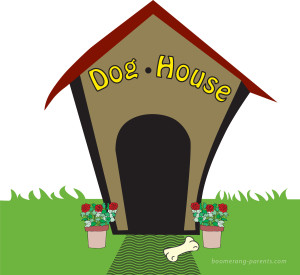 Mondays are usually a stressful time for me when caring for a dementia patient, in that you're bouncing off of a weekend, hopefully a good one…the alarm goes off at 5 am, you're tired because you've been going to bed later than normal for the past 3 days but work is calling. You drag yourself out of bed, do all the things that you do in the early am and out of nowhere, Mom decides to get up early. I pass by her room, and notice her toes moving…I say to myself "OH NO…I'm not ready for her to get up yet, I am still trying to get ready for work" I pass by deliberately a few minutes later, and now I see her feet dangling off of the bed. I peek my head in her room and I say "It's really, really, really early, you can go back to sleep for another hour", praying that she will lay back down for awhile. As fate would have it, on this Monday morning, no such luck…I can see trouble in her eyes…or rather that weird stare when she goes into a dementia attack. I continue to go about my business thinking that maybe, just maybe she will give in and go back to sleep for an hour….nope…she's up and shuffling towards my bedroom door…Happy Monday.
So, with that I make sure she's not needing the bathroom, and I continue to go about my business in getting ready for work. When this happens in the morning, she reminds me of a lost kid, with all of us running all over the house from this room to the next in preparing for the day, and there she is standing there wondering what is happening. It's obvious that she wants some attention paid to her but since she seems all right, we just keep doing what we are doing so we can stay on schedule for work. Vladimir leaves for work and now it's just me, Mom and the dog, waiting for Cardine, her home health aide to come. I'm still running around trying to be done on time. Finally it's 7:30 am and Cardine's car pulls up. Tonya, the dog sits in the window eagerly waiting for her to walk through the door in anticipation of the usual snack that I leave for her when I go to work. Mom is standing there wondering what is happening going further and further into her dementia attack, and I am saying thank goodness Cardine is here, a sitcom in the making. After she arrives and settles in, I brief her on the morning, I say my normal goodbyes and I get a wicked awful blank stare from Mom. Her face is expressionless and her mouth is like a straight line across her face. She does this whenever she is angry with me….so, I just excuse myself and leave for work saying "Have a nice day ladies". I wish I could think to take a photo of this because it's a funny face…Mom was mad at me so I'm thinking Oh Boy…poor Cardine, Mom is in a tailspin and they will have a rough day and that's never a good thing. On that note, I was gone…

Photos: (1) Mom and her home health aide, Cardine…my hero!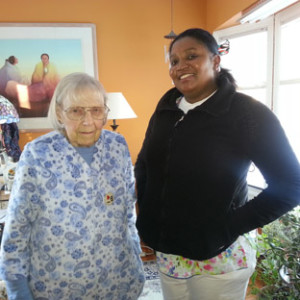 Upon my arrival home after work, I found that Mom let her anger go right after I left and Cardine had a wonderful day since Mom readily agreed to have a hair wash and a bath in the morning without a fight. People with dementia apparently let go of anger a lot faster than the rest of us, probably because their mind is in out of sight, out of mind mode…It was a good day for all….after all.


[contact-form][contact-field label='Name' type='name' required='1'/][contact-field label='Email' type='email' required='1'/][contact-field label='Comment' type='textarea' required='1'/][/contact-form]