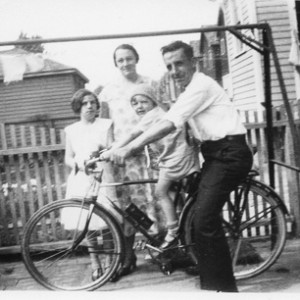 Thinking of Mom today after meeting with her niece and nephews, minus one, David, my first cousins for the first time in many years. Towards the end, she didn't remember them, due to her dementia, heck, she hardly remembered me… but before her dementia took hold, it was more than obvious to me that she loved them very much. They are the children of her only sister, who she loved deeply, who tragically passed away from Leukemia, many years before.
When Mom was still alive, I had always wanted to take her to the cemetery where her parent's rest. Her thoughts were always with her mother and sister. Not sure what happened with her personal memories of her father, but it was very obvious that her connection with her mother and sister were strong. She spoke about them a lot, daily, telling me stories that I had never heard. Telling me of her life, which I would have no other way of knowing. Sometimes, the early stages of dementia get them talking about their life, that quite possibly, they wouldn't otherwise speak about.
Unfortunately, the opportunity never presented itself for me to take Mom to the cemetery. She couldn't accept realistically that her parents were gone. I still have regrets for not pushing it, but pushing things with her presented it's own problems. We all know, that if a dementia person doesn't agree to do something or think about something, there will be hell to pay if you try to make them…so I conveniently let it slide. I have regrets now, even though I know in my heart that they are all together now…which is at least how I rationalize the whole situation at the end of the day.
In any event, meeting with my cousins was a very nourishing event for me, it gave me life energy…a connection to people  who are now gone. They are my past from people who are no longer here…my only direct genetic links to my mother and grandparents. As children, we saw each other about 2 times a year when they came to visit all the way by car from the west coast in WA. Having no siblings myself, I loved seeing them and always felt very connected to them. Needless to say, over the years, people grow to adulthood and marry, have families and because there were so many miles between us, life went on, individually. I am thrilled that we are reconnected as a family, and I hope to keep that connection moving forward.
Photos: Top, (1) Mom (Eleanor) and her sister Lillian, with their parents back in the day, (2) 1960 version Back Row, Cousin Mike, Grandfather, Cousin Sam, Uncle Bob, Grandmother, Great Aunt Freda, Front Row, Cousin Maggie, Cousin David, Lynn (myself) (3) 2015 version, Lynn (myself) Cousin Maggie, Cousin Mike, Cousin Sam
There is one cousin, named David that separated from the family many year ago, moving to a distant state, and to this day remaining silent. It breaks my heart to know this because I felt that we were close as kids…at least we were during our visits. I am hoping someday, that I can reconnect with him as well. then my journey will be completed.
Mom would have been so happy and proud to know that we kids, no longer kids of course, are reconnecting as adults. Our family has had so many road bumps through the years and finally, something good is happening at the end of the rainbow.